MAP Gift Voucher Paper Rp100.000
Orders will be processed for DELIVERY within 24 hours (Monday – Friday) after payment is confirmed in the system.
Vouchers will be processed for delivery within the next 3 – 5 working days.

Purchases made on Saturday & Sunday will be processed on the next working day.
This MAP Gift Voucher in Rp 100.000,- denomination is the official paper gift voucher from PT Mitra Adiperkasa Tbk and the leading lifestyle gift voucher in Indonesia. MAP Gift Voucher is redeemable at selected stores managed under MAP Group.
For the complete list of stores, please click here.
The paper voucher will have an expiry date printed on the back of the voucher, above the barcode, and on the upper left-hand corner next to the perforated line.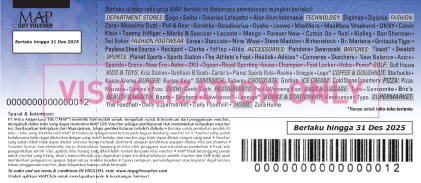 All vouchers published in 2023, will have an expiry date of December 31st, 2025.
Terms and Conditions:
PT Mitra Adiperkasa Tbk ("MAP") reserves undisputed rights to change the terms & conditions of voucher's use and eligibility, based on management's discretion, without prior notice.
Expired vouchers cannot be exchanged for new vouchers.

Valid for purchase of goods at stores managed by MAP in Indonesia as listed

here. MAP reserves the right to amend changes to the store lists without prior notice.

This voucher is not exchangeable for cash.

Vouchers that have been bought (all transactions are final) cannot be exchanged for a different format (paper to electronic or vice versa) or exchanged for a different denomination.

Vouchers (paper and electronic) must be presented in-store, in-person to be eligible for transaction.

No residual value will be returned to the voucher holder if the purchase value is below the value indicated on this voucher.

Valid for purchase of goods of higher value upon payment of price difference in selected stores.

MAP is not responsible for vouchers that are lost, stolen, destroyed/tampered with, or used without permission due to the voucher holder's negligence and no replacement will be provided under these circumstances.

Any fraud, misuse, or any illegal activities related to MAP's vouchers will be reported to relevant authorities.
More Information

| | |
| --- | --- |
| Concept | MAP Gift Voucher |
| Brand | MAP Gift Voucher |
| Denomination | 100.000 |
| MAP Product Type | Paper |